The interior trends of 2023
The home of 2023 is strongly personality-driven with soft shapes and dusty colours, personal collections, and a mix and match of vintage and new furniture.
The interior trends of 2023 are an ode to individuality
Laura Ratia, a Helsinki-based interior designer, is the founder of Ratia Stories offering interior design for residential and public spaces. We talked with her about the interior trends of 2023.
"Designing spaces means treating each project uniquely. My passion is creating homes where people relax and feel at ease. Keeping up with trends is keeping up with people."
Ratia highlights that it is essential to remember that what is trending in interior design right now is linked to what is happening worldwide. Climate change pushes customers to think ecologically, and the pandemic has lifted the importance of home. With all these issues in mind, Ratia introduces the trends of 2023 in interior design. 
Organic and soft
Sofas with the shape of a bean and roundish rugs are taking over the interiors in 2023. Soft and organic forms and natural materials, such as wool, linen and natural stones will be seen even more. Wood and especially pinewood will make a comeback this year. Organic forms will be visible also in architecture, for example, in the roundings of walls and doorways.
For the love of surfaces
The bold use of surfaces is trending. Ratia encourages us to notice the surfaces that often don't get attention. For example, painting the ceiling or the door creates a different ambience to the room. One can also create new forms and lines within a wall to refresh the space by painting.Try, for example, painting half of the wall like it is done in this image with H353 Forget me not.
Slow interior by preloved items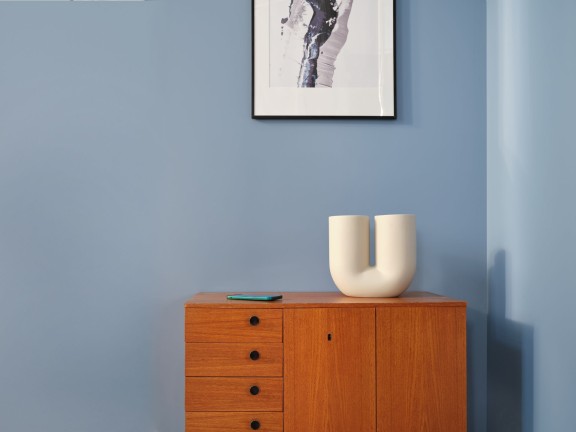 Furnishing with vintage and second-hand is now more actual than ever. The mix and match of curated preloved items and new modern items create a personalised home. Part of the trend is to be patient and find the right furniture that will last time.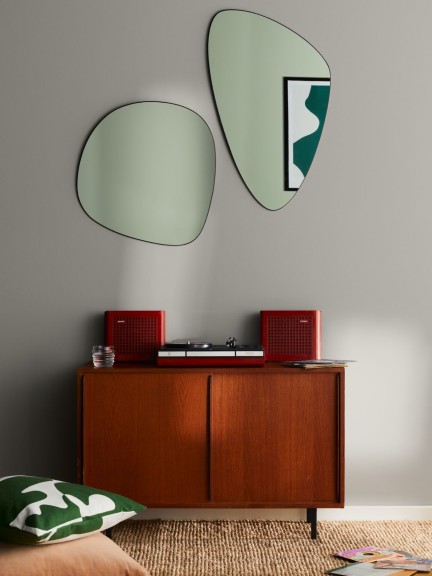 Colours that pop
Bright colours as small details will embark interiors. It might be a small item that brings contrast to the space. Rugs are trending, and rugs might be the place to add a bold colour to your home. Try, for example, a cobalt blue like M354 Ara or vibrant fresh yellow like F392 Cocoa butter that is a newcomer in the colour palette of 2023.
A year to be playful
Interior design shouldn't be that serious. That's why Ratia encourages you to be playful when designing and decorating your home. This year is not about creating a perfect environment but mixing, matching and playing to highlight your personality. Hanging art on your walls is an easy way to finalise a space.
Short glimpses of the future interior trends
- Clean spaces. More than just a place without mess, cleanliness will mean having a peace of mind, decluttering the unnecessary, reusing and recycling, and having clean ingredients in products we use. 
- Home as an evolving space. Home is serving multiple purposes and it needs to transform to our needs – be it a working space or a workout space.
- The rise of senses. Every sensorial and stimulating aspect in your home is becoming more and more important. We're seeing a lot more scented candles, lighting design, virtual sound baths, and colour use, for example.
- Easy DIY upgrades. As the economics become tighter, many more are willing to enliven their spaces with easy and affordable DIY projects such as painting walls or pieces of furniture.
Source: WGSN Home Lifestyles 2025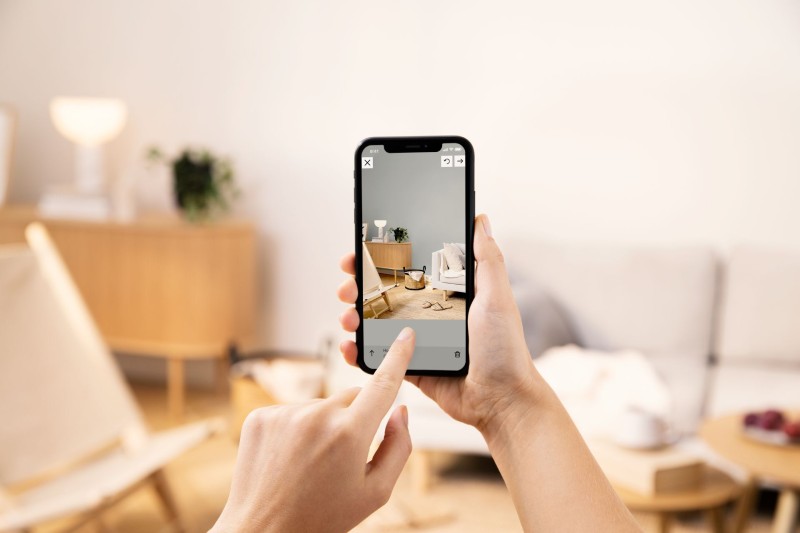 Test trendy colours by Tikkurila Colour Master App
Find out how popular Tikkurila colours would look on your walls with the AR wall painter feature, get inspired by the current colour trends or form colour palettes of your favorite spaces. Tikkurila Colour Master application is all you need for mastering your painting projects.
Download now and unleash your creativity!
You're visiting Tikkurila website from United Kingdom. Would you like to visit the local UK site?