How to oil wooden deck and terrace in a weekend
Get your terrace prepared for summer! The easy wooden deck maintenance contains a thorough wash and oiling of the wooden surfaces.
Wood oil treatment keeps wooden deck in great shape
If you leave your wooden deck without proper care, within the years, the wood will start to look out of shape, and its colour will fade. To keep your deck stunning and fresh-looking, you should observe it regularly and maintain with wood oil treatment as needed approximately every one to two years. Spring is the best time to maintain and treat your wooden deck, so you can enjoy it all summer.
Wood oil treatment is easier and faster than you think: you only need to acquire a few tools and necessities and follow the easy instructions.
Watch the video to see how it is done and read all the tips and step by step instructions below!
Tips for preparing wood oil treatment
Check the weather beforehand! Take into consideration that you need to pick a warm and partly sunny weekend to make sure the terrace will be able to dry after cleaning, get the right tools and start the work preferably in the morning.
Wash and dry properly! Washing the deck effectively removes both dirt and old treatment. Previously done oil treatments should be removed before the new treatment. This will help the oil to be absorbed into the wood. Let wooden deck dry in the warm and dry weather over night. Wood oil will be absorbed better when surface is dried up.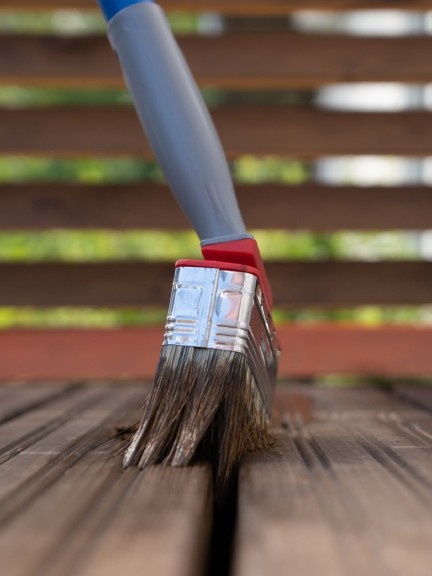 Tools and products you need to maintain your wooden deck
Instructions for an easy and fast wooden deck maintenance
1. Start making a painting plan according to the product instructions and collect all the necessary tools.
2. Empty wooden deck and protect the surrounding surfaces.
3. Clean deck with a brush to remove all the loose dirt.
4. Wash the surfaces with a suitable detergent, like Terassi- ja kalustepesu and follow the detergent's instructions. Scrub the surface carefully and rinse with water. Leave to dry completely, preferably until the next day.
5. Stir wood oil product thoroughly before and during the oiling process. Make a small painting trial to see the colour result.
6. Apply Valtti Plus Terrace Oil or Valtti Plus Wood Oil evenly with a brush or sponge spatula. Use an extension pole if needed. Oil the wooden deck at once and ensure the oil is absorbed into all the surfaces.
7. Leave the oiled surface to dry for 15 minutes and use a lint-free cloth to wipe off the excessive oil.
8. Enjoy your fresh-looking terrace!
How to choose the right products for oiling wooden deck?
Properly done surface treatment with high quality products will protect and beautify your wooden deck and terrace. Our guide will help you to choose the right products for wood oil treatment. 
You're visiting Tikkurila website from United Kingdom. Would you like to visit the local UK site?