A two-component, semi-matt water-borne epoxy direct-to-metal paint.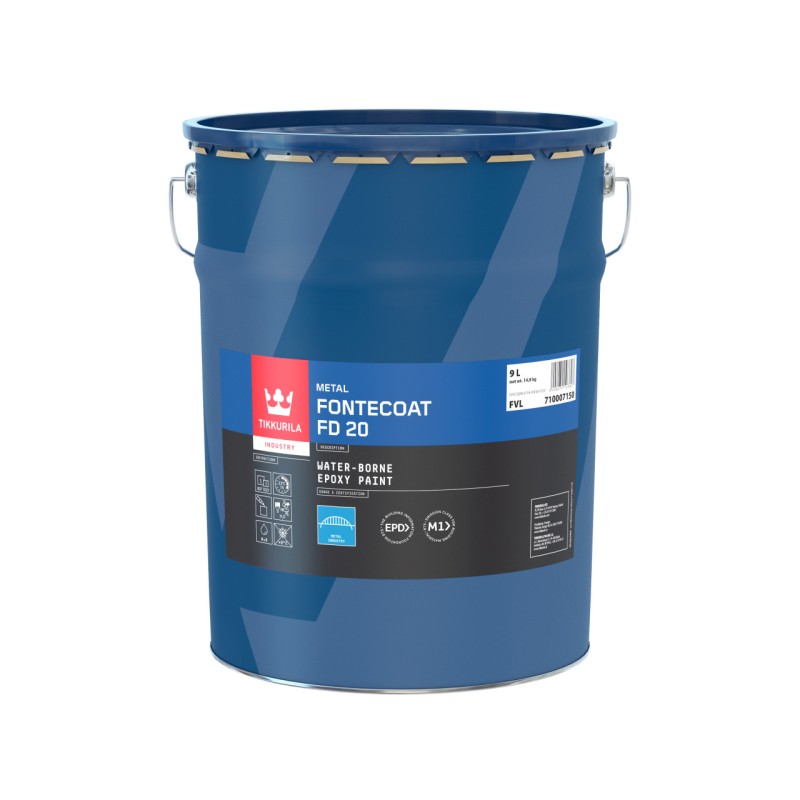 Fast curing
Self-priming
Easy to apply
Description
A two-component, semi-matt water-borne epoxy direct-to-metal paint.
Product Features
• Very fast curing. May help speeding up the painting process and decrease the overall costs of the painting system. Less downtime is a remarkable benefit. • Self-priming. Fontecoat FD 20 has been especially developed for use as single-coat paint. Due to its highly developed anti-corrosive properties, the product provides long-term protection for steel constructions, machinery and equipment in process and other industries. • Easy to apply. Can be applied in thick layers, thus enabling a faster painting process. Good hiding power simplifies painting of weldings and seems. Less dry dust formation during spraying makes this water-borne product even more user-friendly. • Used as a topcoat or as a single coat paint in epoxy paint systems for steel surfaces. • Excellent adhesion and surface tolerance when used with Temakeep adhesion primer, allowing extremely fast cycle times. • Can also be used as a primer or intermediate coat in epoxy / polyurethane systems. • Very good resistance against mechanical and chemical stress. • Fulfils the requirement of LEED v4 (according to the method accepted for investments realized outside USA), BREEAM, BREEAM-SE and BREEAM-NOR classification system. • The M1 classification for low-emitting building materials has been granted by the Finnish Building Information Foundation RTS.
Recommended Uses
• Recommended for framework, service platforms, conveyors and other steelwork, machinery and equipment.