ClimateCooler Uni Topcoat
Heat-reflecting water-borne modified acrylate paint.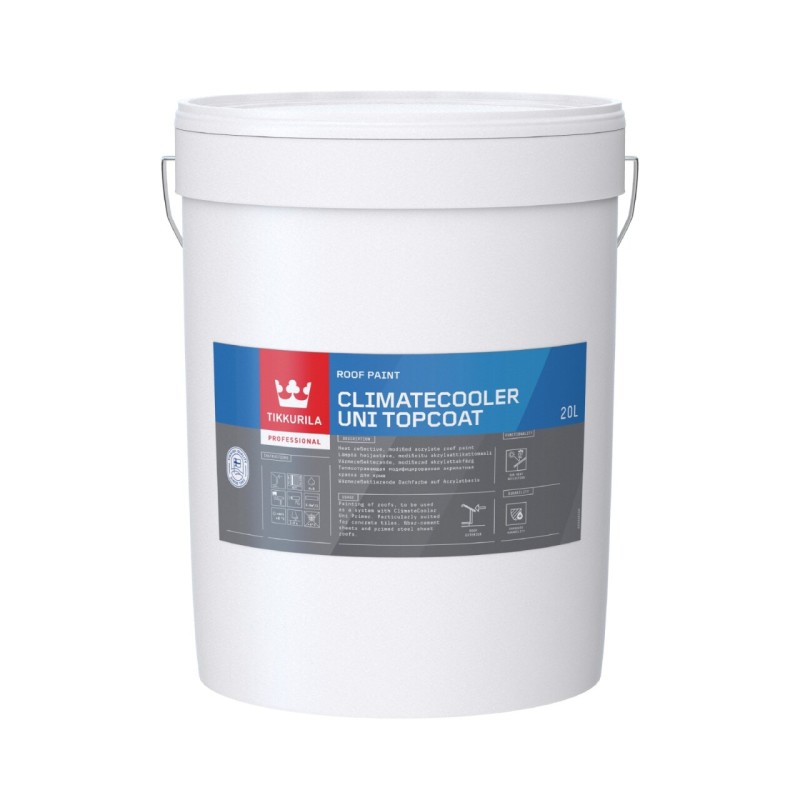 Sun heat reflection
Improves durability
Lower energy consumption for cooling down buildings
80

8

3 m²/l

5 m²/l

4

h

1

h
Description
Heat-reflecting water-borne modified acrylate paint.
Product Features
Painting of roofs. To be used as a system with ClimateCooler Uni Primer.
Recommended Uses
Concrete tiles, fiber-cement sheets and primed steel sheet roofs.
Coverage
3-5 m²/l.
Thinner
Waterborne
Application Method
spraying, brush, roller
Application Conditions
The surface to be painted must be solid and dry, air temperature at least +8 C and relative humidity of the air below 80 %. Schedule the painting work so that the paint film will be dry before the evening dew. Do not paint under the risk of rain.
Surface preparation
Clean the surfaces from dirt, dust, moss and lichen. Use high pressure washer, avoiding damaging the substrate and structures. Apply ClimateCooler Cleaner solution according to instructions if needed. When handling a surface containing asbestos, the decision of the Council of State respecting work with asbestos No. 1380 of 1994 must be followed along with related decrees 318/2006 and 863/2010.
Painting
First coat:
Mix the paint carefully before use. Apply one or two coats of ClimateCooler Uni Topcoat, total wet film thickness 200-225 µm. Note! Check the condition of the roof and the roof structures before starting the work. The product contains film protecting agents, therefore rainwater flowing from the roof is not recommended to be used for watering plants or washing during the first year from painting. The product is not suitable for clay tile roofing.
Maintenance Painting:
Surfaces painted with ClimateCooler Uni Topcoat can be maintenance painted with the same system.
Maintenance Instructions
Handle the painted surface with care as the product achieves its final hardness and durability in normal conditions in about four weeks. The surface achieves its final hardness and durability within approx. 4 weeks. Earliest after 1 month from application the surface can be cleaned with ClimateCooler Cleaner (mixing ratio 1 part of cleaner in 50 parts of water).
VOC
(cat A/i) 140g/l (2010) ClimateCooler Uni Topcoat contains VOC max. 140g/l