Finnseco Rappauskorjauslaasti Hieno
Pumpable or hand-applied, air entrained lime-cement dry mortar. High lime content. Breathable and weather resistant. Max. grain size 0,6 mm.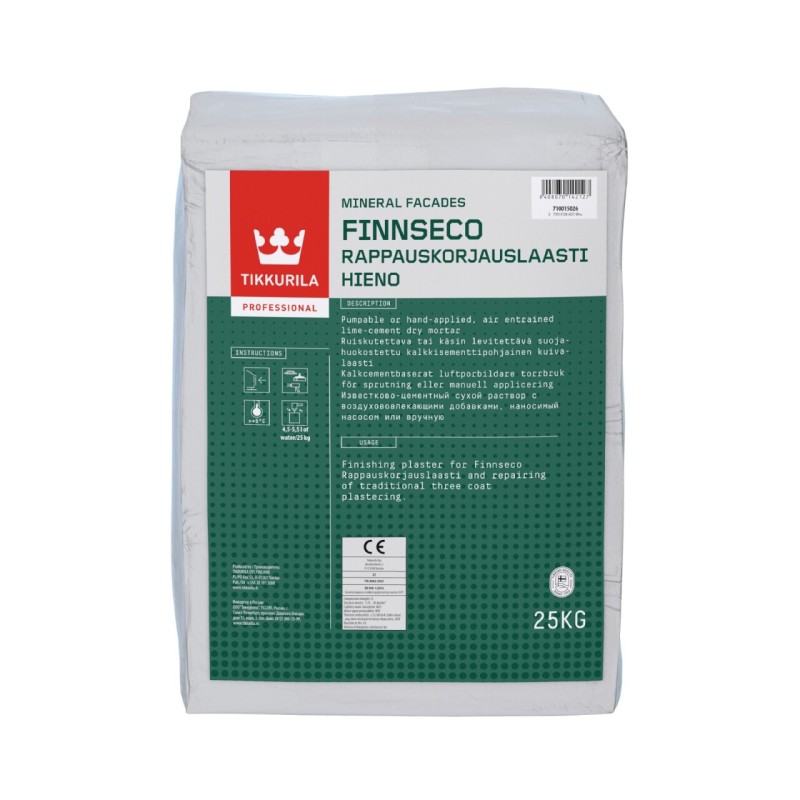 For repairing old plasters
Excellent weather resistance
Description
Pumpable or hand-applied, air entrained lime-cement dry mortar. High lime content. Breathable and weather resistant. Max. grain size 0,6 mm.
Product Features
Finishing plaster for Finnseco Rappauskorjauslaasti and repairing of traditional three coat plastering. A soft and lime-strong mortar is best suited for repairing old plasters, as the patch should in principle be as strong or preferably weaker than the original plaster. Plastering is almost always more durable than the original plastering.
Recommended Uses
Residential, commercial, industrial and storage buildings and others.
Coverage
Consumption: mixed product 13-14 l/25 kg.
Storage
Store in a dry place (off the ground), do not get wet.
Application Conditions
The temperature of the ambient air, mortar and substrate must be at least + 5 °C. Working in hot weather, heavy winds and direct sunlight should be avoided.
Surface preparation
PRE-TREATMENT OF SUBSTRATE The substrate to be plastered must be clean and intact. Salt, cement glue, dust and other impurities that weaken adhesion must be removed by steel brushing or chipping hammer. Wash the surfaces with e.g. pressure washer before painting and repairing. Use Tikkurila Homeenpoisto if necessary. Dry substrate must be pre-moistened, since the substrate must be moist and absorbent before plastering. Absorbency can be detected by pressing on the area to be patched with the palm of the hand. If there is clearly noticeable moisture left on the palm, the substrate is still too wet to patch. Wait a moment for moisture to come off the surface. PREPARING THE MORTAR Finnseco Rappauskorjauslaasti Hieno is added to clean water and mechanically mixed to an even mass, after which it is let to settle for about 10 minutes before re-mixing and application.
Painting
First coat:
FINISHING PLASTER The filling mortar must be properly hardened and at least 2-3 days old before surface plastering. The substrate must also not be trowelled smooth. If necessary, moisten the substrate before plastering. The finishing plaster is done with a plastering pump/hopper gun, throwing by hand with a trowel or when making a smooth/brushed surface, it is applied with e.g. a steel blade. The total layer thickness should be 2-5 mm. Different surface patterns can be obtained by varying the flexibility of the mass, the size of the nozzle, the amount of air and the spraying distance. A suitable spraying distance for a plastering pump is approx. 1 m and for a hopper gun approx. 0,6 m. The surface plaster can be left as it is, rubbed or worked into the desired structure. The repaired plaster surface should imitate the original surface as closely as possible. Testing and model making is essential to achieve a good end result.
Cleaning of tools
Wash tools immediately after use with water.