Polymer-modified premixed dry mortar with additives, containing an inhibitive pigment. Maximum grain size: 0.6 mm.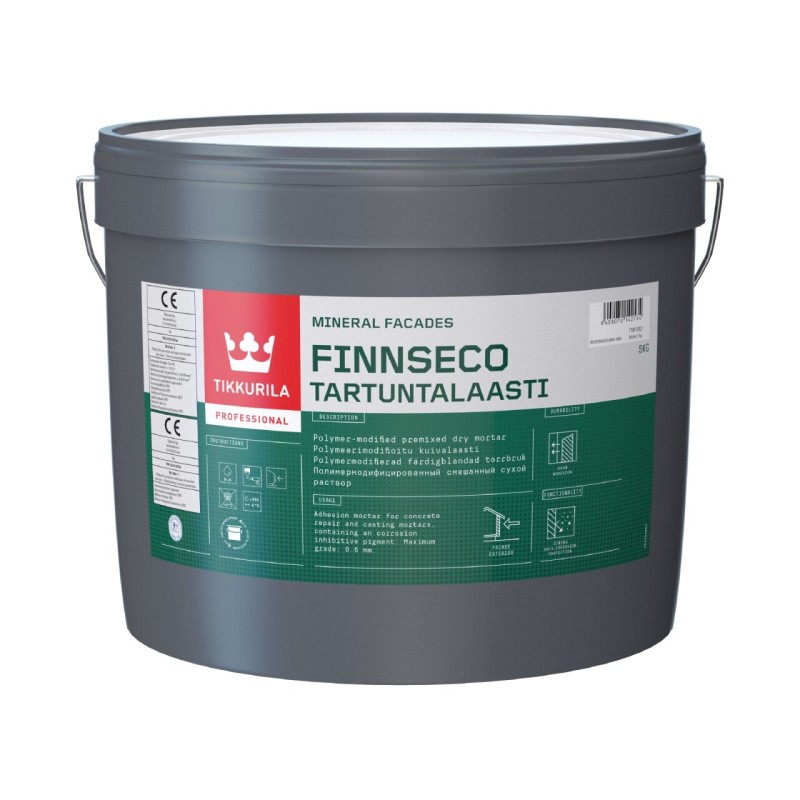 Universal dry mortar
Suitable for small patches and repairs
Description
Polymer-modified premixed dry mortar with additives, containing an inhibitive pigment. Maximum grain size: 0.6 mm.
Product Features
Primarily for corrosion protection for steel cleaned from rust, and adhesion mortar for concrete repair and casting mortars. Can also be used as such in small-scale concrete patching and leveling, as well as as an adhesion-enhancing additive in Finnseco KL+ Korjauslaasti and Finnseco Rappauskorjauslaasti (see work instructions in the product description for each product).
Recommended Uses
Residential, commercial, industrial and storage buildings and others.
Coverage
1.5–2.0 kg/m² as grout. 0.1–0.2 kg/running meter for protecting reinforcement bars, depending on the thickness of the reinforcement. 1,9 kg/m²/mm as concrete repair and leveling mortar.
Application Conditions
The temperature of air, mortar and substrate must be at least +5°C. Avoid working when it is hot or in direct sunlight.
Surface preparation
PREPARING THE MORTAR Finnseco Tartuntalaasti is added to clean water and mechanically mixed to an even mass, after which it is let to water for about 10 minutes before re-mixing and beginning to work.
Painting
First coat:
Protection of reinforcement bars: Remove concrete from around the steel so that you can coat the entire steel surface. The reinforcement bars are cleaned from rust (prepared) to at least grade St2. Remove any chiseling and sanding waste carefully. The first coating must be applied as soon as possible after cleaning the reinforcement bars on clean and dry surface once or twice. The back of the reinforcement bars must also be treated. Apply the second coat when the first is touch-dry after around 2-3 hours. The total layer thickness is approx. 2 mm. Use as grout: Remove any dust and dirt from the substrate to be treated. Moisten the substrate before plastering. Plaster is spread on slightly moist substrate with a spray gun, roller or brush depending on the extent and structure of the area being repaired. Repair and casting plaster must be spread using a wet-on-wet principle on top of the grout. Use as repair mortar: The mortar is compacted with a trowel at the patch to be repaired to prevent air pockets that weaken the adhesion of the patch. Wide, several-centimeter-deep repair areas are done in stages. In the first stage, the mortar is compacted to a layer thickness of appr. 10–15 mm. The patch is allowed to harden for at least 1 day, after which the filling is continued. When the depth is more than 30 mm and the size of the area is greater than 100 × 100 mm, the filling is performed with Finnseco KL+ korjauslaasti. Use as leveling mortar: The substrate is cleaned of loose dust and dirt. Before applying the mortar, moisten the substrate. The mortar is applied with a trowel to a matt damp substrate. The mortar is applied by hand with a steel or cellular rubber-coated trowel to a thickness of appr. 1-3 mm. The surface can be lightly rubbed with a sponge 20-50 minutes after applying the mortar, depending on the conditions. The surface can also be brushed, for example, to obtain the desired structure immediately after application.