Waterborne impregnating agent.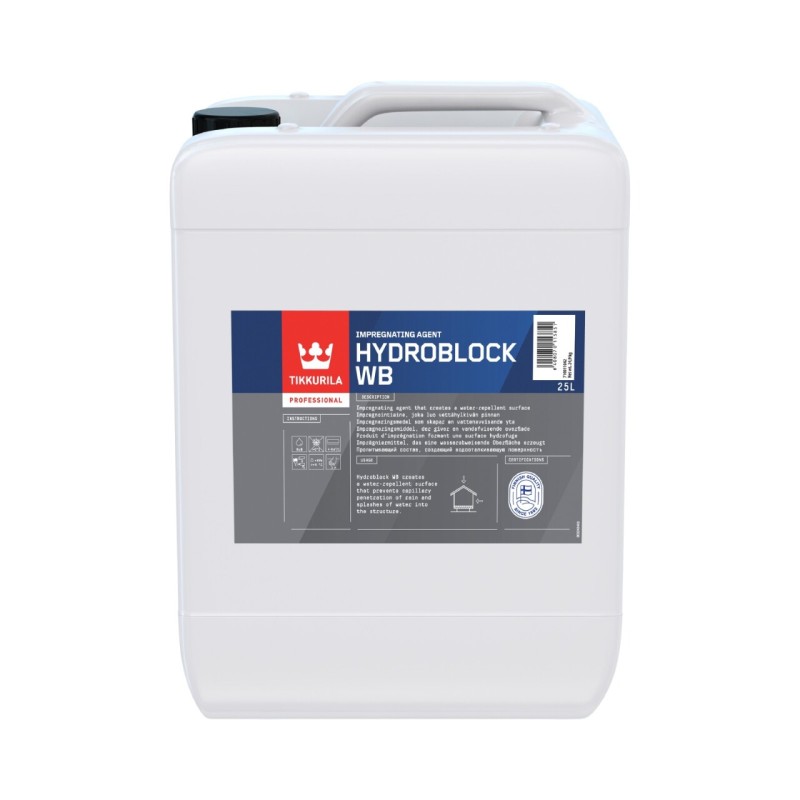 Effective impregnation
Improves durability
Non film forming
Description
Waterborne impregnating agent.
Product Features
HydroBlock WB is a transparent waterborne impregnating agent that penetrates well into the substance and reacts chemically with the substrate. Very suitable for "tight" mineral surfaces. It creates a water repellent surface that prevents capillary penetration of rain and splashes of water into the structure. Allows water vapour coming from inside the structure to pass through. Reduces salts moving to the surface of the structure. Does not form a superficial film. Reduces the growth of algae, green discolouration and prevents frost damages.
Recommended Uses
Typical applications are houses, commercial buildings, industrial, warehouse etc facades, roof tiles and pavings. For most mineral materials, such as brick, calcium-silicate brick, aerated concrete, concrete, exposed-aggregate concrete, rendered and mineral facade board surfaces.
Coverage
4 -8 m²/l The practical spreading rate depends on application method, form and surface of the material.
Thinner
Waterborne
Application Method
spraying, brush, roller
Storage
Must be protected from frost. Should not be stored in temperature above +30°C.
Application Conditions
The temperature must be between 5° C and 30° C and relative humidity <85 % RH.
Surface preparation
Clean the surfaces from dirt, dust and salts. Clean the surface with Iso A-Clean according to instructions. The surface must be totally dry, clean and absorbing to ensure good penetration.
Painting
First coat:
Soak the surface with HydroBlock WB till saturation point by spraying "wet on wet". HydroBlock WB must be applied in 1 – 2 "layers" in order to obtain the best result. Avoid application of the product in presence of strong wind or rain as this may cause stains or blotches. A surface already treated with a water-repellent product will not allow the penetration of other impregnating agents (hydrophobic solvents). Liquid not absorbed can cause stains on the surface – these are very difficult to remove. All splashes, if any, must be wiped away from windows immediately. It is recommended to cover windows before applying HydroBlock WB. Newly plastered or rendered walls must be fully hardened and dry before the application of HydroBlock WB. Always make a test coat to ensure the compatibility of product and surface.
Maintenance Painting:
The maintenance treatment for a surface treated with Hydroblock WB is Hydroblock WB. The substrate must be adequately water absorbing and the possible earlier treatments can have an effect on the success of the treatment.
Cleaning of tools
Clean tools immediately after use with water and soap.