Light scattering water-borne roof coating with high covering strength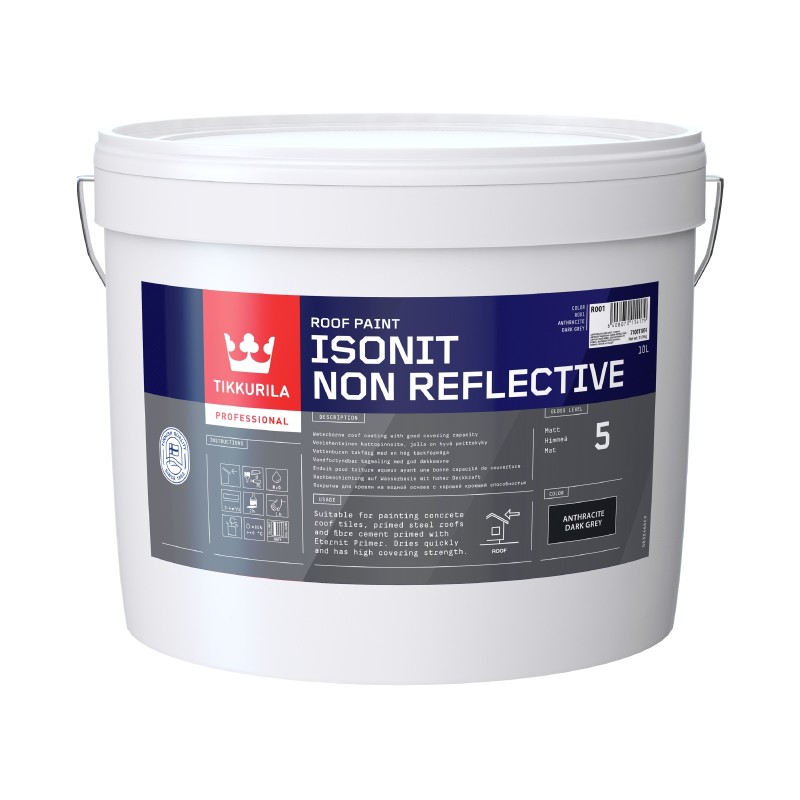 Super aesthetic finish
Easy to use
Long lasting effect
Description
Light scattering water-borne roof coating with high covering strength
Product Features
Isonit Non Reflective is a waterborne roof coating especially suitable for cratered roofs of fibre cement. The special paint spreads the reflection of the sunlight resulting in the surface looking more evenly matt instead of appearing faded and pale. Isonit Non Reflective has high coverage and a short drying time. The coating creates a water repellent surface that is diffusion-open, allowing water vapour coming from inside the material to pass through. Good flow and levelling properties. Strong and water-repellent surface. Light-fast and weather-stable.
Recommended Uses
Cratered roofs of fibre cement (primed with Eternit Primer), concrete roof tiles, fibre cement slates, primed steel roofs.
Coverage
2-4 m²/l (2 layers) The practical spreading rate depends on application method, form and surface of the material.
Thinner
Waterborne
Application Method
spraying, brush, roller
Application Conditions
The temperature must be between 8° C and 30° C and relative humidity <85 % RH.
Surface preparation
The roof must be cleaned thoroughly using high-pressure and Iso A-Clean. It is advantageous to prime fibre cement roofs with Eternit Primer in order to obtain a durable surface (see PDS). The surface must be clean, dry and durable.
Painting
First coat:
To ensure the optimum layer thickness, apply the paint in two layers (each with a layer thickness of 200 µm). If Eternit Primer is used, the right layer thickness can be obtained with only 1 layer of 300 µm. Allow sufficient drying time between applications. Always make a test coat to ensure the compatibility of product and surface.
Maintenance Painting:
It is recommended to maintain coated roofs with a treatment with Iso A-Clean every second year – in order to keep the surface nice and clean.
Maintenance Instructions
In order to keep the roof nice and clean it is recommended to clean roofs coated with Isonit Non Reflective with Iso A-Clean every other year.
VOC
Avoid spillage into drains, water systems and soil. Destroy liquid waste according to the local regulations. Recycle or dispose of empty, dry cans in accordance with local regulations. VOC: Max. 40 g/l (Kat. A/c)