Elastic high-build roof coating.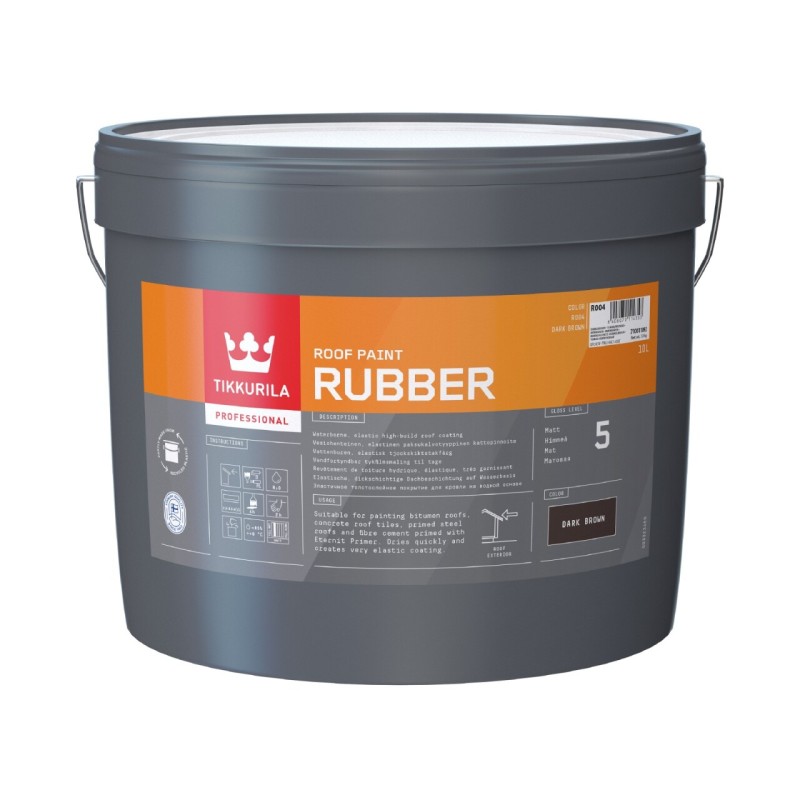 New look and extended lifetime of the roof
Elasctic
Easy and safe to use
85

8

2.5 m²/l

3.5 m²/l

4

h

2

h
Description
Elastic high-build roof coating.
Product Features
Rubber is a water-borne high-build roof coating that is very elastic and especially suitable for older roofs primed with Eternit Primer. Rubber creates a light-fast and weather-stable coating. Available in both tintable bases and factory ready made shades.
Recommended Uses
Rubber is suitable to apply on concrete, bitumen and fibre cement primed with Eternit Primer. Isonit is not suitable for use on clay tiles or natural slate.
Coverage
2,5 – 3,5 m²/l (2 layers) The practical spreading rate depends on application method, form and surface of the material.
Thinner
Waterborne
Application Method
spraying, brush, roller
Storage
Store in a cool place, protected from frost in tightly closed original containers, and out of reach for children.
Application Conditions
The temperature must be between 8° C and 30° C and relative humidity <85 % RH.
Surface preparation
Roofs to be painted should be thoroughly cleaned using high-pressure washer and Iso A-Clean.
Painting
First coat:
To ensure the optimum layer thickness, apply the paint in two layers. Allow sufficient drying time between applications. Always make a test coat to ensure the compatibility of product and surface.
Cleaning of tools
Clean tools using water and detergent.
Maintenance Instructions
In order to keep the roof nice and clean it is recommended to clean roofs coated with Rubber with Iso A-Clean every other year.
VOC
Avoid spillage into drains, water systems and soil. Destroy liquid waste according to the local regulations. Recycle or dispose of empty, dry cans in accordance with local regulations. VOC: Max. 40 g/l (Kat. A/c)