A two-component solvent-free epoxy paint.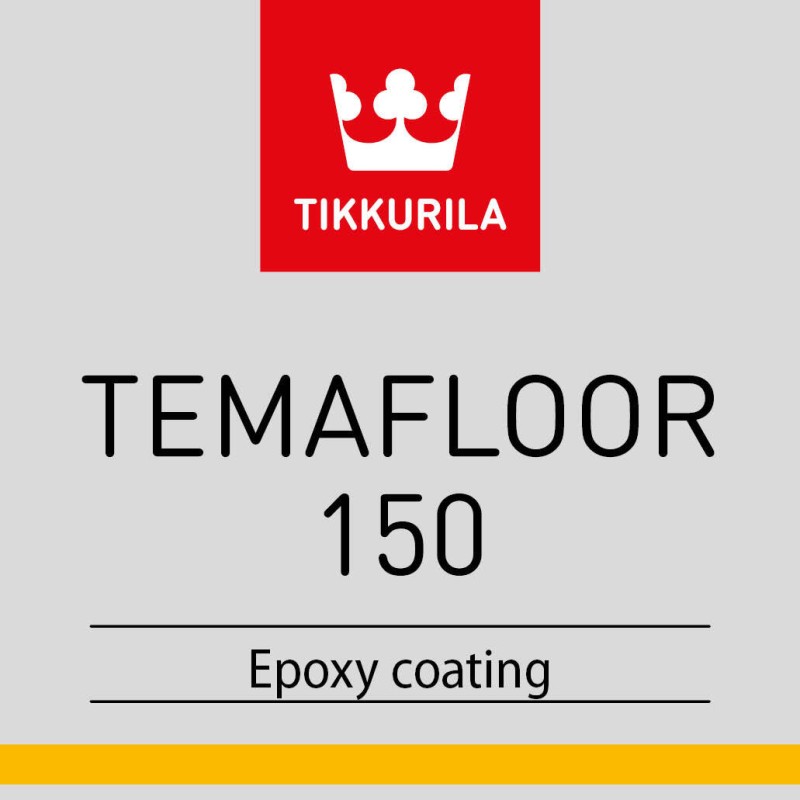 A two-component solvent-free epoxy paint.
Description
A two-component solvent-free epoxy paint.
Product Features
• A solvent-free epoxy paint for floors indoors and outdoors. • Recommended for floors exposed to moderate chemical and mechanical stress in industrial and storage facilities, repair shops etc. • Withstands +70ºC dry heat and +60ºC in immersion. • For new and old concrete floors and for surfaces previously treated with epoxy paints. • Temafloor Flex hardener makes the paint surface flexible and thus more resistant to cracking of concrete.
Recommended Uses
• Suitable for coating of asphalt floors, floors of garages, staircases, balconies, washing facilities, cellars etc.
Coverage
Coverage on concrete floors is on the average: primer 4–6 m²/l and topcoat 6–8 m²/l. Practical coverage depends on the porosity and evenness of the substrate and on the application method.
Thinner
Solventfree
Application Conditions
The relative humidity of the concrete should not exceed 97%. The temperature of the ambient air, surface or coating should not fall below +15ºC during application or drying. Relative humidity of air should not exceed 80%. Note! There is a natural tendency of this coating to chalk, discolor or yellow unevenly. It is recommended to use polyurethane topcoat when there are high aesthetical requirements on color appearance.
Surface preparation
New concrete: Remove laitance by power grinding or hydrochloric acid etching. Choose the method best suited for the premises. After grinding remove dust carefully with a vacuum cleaner. Hydrochloric acid etching is carried out with diluted hydrochloric acid (1 part concentrated hydrochloric acid, 4 parts water). Rinse with plenty of water. Dry the floor. Old concrete: Remove all grease, oil, chemicals and other impurities by Maalipesu detergent. Remove old peeling paint layer by grinding. Choose the method best suited for the premises. Clean out pot-holes removing all loose friable material. Open cracks with e.g. an abrasive tool. Remove loose material and dust. If cementitious screed is used, check compatibility with the levelling screed manufacturer.
Painting
Cleaning of tools
Thinner 1029.
VOC
VOC 2004/42/EC (cat A/j) 500 g/l (2010) Temafloor 150: max. VOC < 500 g/l