While more companies are choosing to work with water-borne metal coatings, these products aren't as widely used and understood compared to solvent-borne coatings. There are many misconceptions about water-borne metal coatings, leaving people unsure about whether they're the right solution for their business.
When considering different paints for metal surfaces, how can you make the right decision? Ask yourself these five questions to better understand if water-borne coatings are right for your company.
1. What are your sustainability targets?

As companies work to meet their sustainability goals, there is increasing demand for paints with strong corrosion protection and lower volatile organic compounds (VOCs). In fact, maintaining direct-to-metal (DTM) properties while reducing VOC content has been a top priority for water-borne coatings research and development efforts.
One concrete way you can work towards reaching your sustainability goals is by using paints and coatings that have a more positive impact on the environment. Water-borne products can significantly lower your VOC emissions. Compared to solvent-borne metal coatings, almost only water evaporates from water-borne coatings when the paint dries. By working with water-borne metal coatings, you can improve your company's sustainability without compromising on quality. This is one key reason why many companies choose water-borne products.
At Tikkurila, we actively develop and expand water-borne products that have as low an environmental impact as possible. The table below compares the metal coatings process using only solvent-borne alkyd paint vs. using only water-borne acrylic paint. In this example, using solvent-borne paint plus the cleaner requires 17 674 more kilograms of VOC than the water-borne paint. Wet water-borne paint can be cleaned with just water, which is more environmentally friendly and more cost-efficient.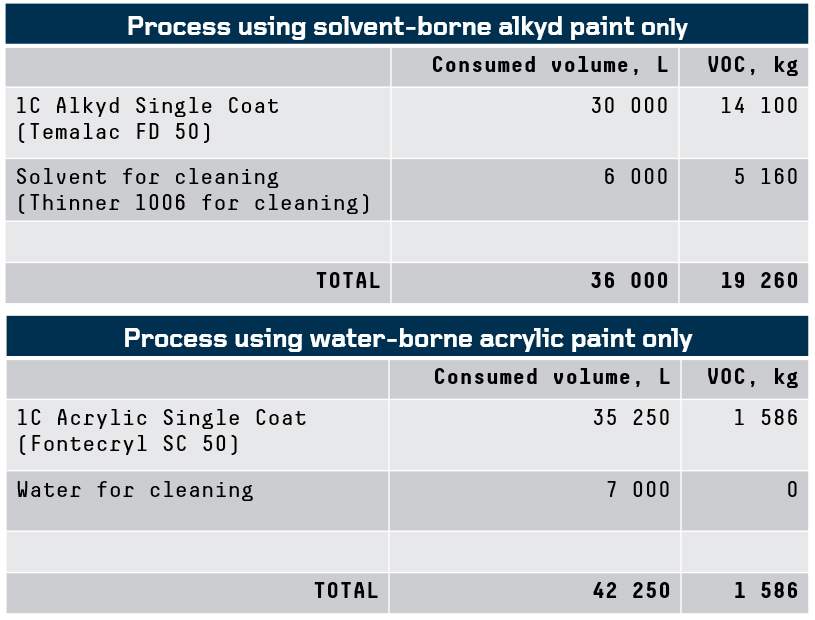 2. Are you preparing for stricter regulations?
Another reason for the push towards water-borne solutions is tightening VOC and safety regulations. Many European countries are preparing for legislation against the use of solvent-borne solutions. Water-borne products fully comply with the latest environmental regulations as well as industrial quality standards. Ultimately, they're the safer choice for both the environment and painters' health and safety.
While it's not recommended that users inhale fumes from water-borne products during the application process, inhalation is less hazardous during the drying process compared to that of solvent-borne products. That's because water instead of solvents evaporates from the paint. Because of lower emissions, the quality of indoor air is better and allergy risks are lower with water-borne products.
3. What painting conditions are you working in?
Do you paint in humid conditions? If so, you'll need to pay extra attention to drying with water-borne products. The water in water-borne paints can't evaporate properly in extremely humid conditions so the drying time will be longer.
It's best to apply metal coatings in a controlled environment such as a painting shop where you can adjust the climate and keep the humidity at a certain percentage. In some factories that don't have modern painting shops, the temperature can be over 30°C in summer, and below 10°C in winter. Paint dries faster in the higher temperatures, and the recommended humidity level for water-borne metal coatings is 20-70%.
4. What types of metal surfaces do you treat?
Are you working with interior or exterior metal surfaces? How long do you need the paint to hold on the metal surface?
Thanks to new advances with paint formulations, water-borne coatings can protect most metal surfaces—even in harsh environments. When comparing different types of coatings for metal, some people worry that water-borne products aren't as resistant to weather conditions. But in reality, these products have the same weatherability as alternative solutions. In fact, some water-borne coatings like acrylics offer even better weatherabilty than some solvent-borne products, especially when it comes to colour and gloss stability.
It's important to note that you won't want to use water-borne coatings for immersed services or for buried and underground services since this level of resistance is not yet possible with water-borne products.
Depending on the binder type, water-borne paint adheres well and can be used to protect and decorate other common types of metals like cast iron, aluminum, and galvanized steel.
5. What is your budget for metal coatings?
Water-borne metal coatings require a higher initial investment—the products are priced a bit higher because the raw materials are priced higher. But after the initial investment of adjusting your equipment and processes, you start gaining back your investment.
Since water-borne coatings aren't flammable, you don't need to factor in explosion-proof equipment or highly flammable paint insurance in your budget. Additionally, no specially trained personnel are needed to transport water-borne products. Since all you need is water to clean wet water-borne paint, you can also cut costs by using less cleaning supplies.
When considering your budget, you'll also want to consider your company's priorities. It's worth investing in water-borne coatings if you aim to improve your sustainability, reduce your carbon footprint, and improve painters' health & safety.
If you want help figuring out whether water-borne metal coatings are right for your business,reach out to us. We're happy to help you make a well-informed decision!